Finding a stolen or lost phone is not easy, and many people make money on urgency by trying to provide device search services. You need to exercise common sense by spending a little more time on this issue. Now we will figure out together with you how you can find a phone by IMEI, and how this will not work.
Is it possible to find a phone by IMEI?
In general, it is possible to find a lost phone, but a number of conditions must be met:
Active GPS . You need to know for sure that GPS is enabled on your smartphone.
There is access to the Internet . Mobile internet must be active. You might be lucky if Wi-Fi is on and it will automatically connect to a public network while it's blocked.
The phone is on .
Authorization in a Google or Apple account is active on the smartphone.
The "Find my device" function is active . Usually enabled by default on Android, but could be turned off manually by you. On the iPhone, it had to be turned on in advance by yourself.
Important! If the conditions listed above are not met, the only way to search if the device is stolen is to contact the police by the owner of the smartphone. Only state structures have access to operators' databases. Whether the stolen phone will be found by IMEI is not exactly known, a lot depends on the situation. A lost phone is easier to find. If it is stolen and immediately turned off, the chances are drastically reduced. The sooner you contact the police, the better your chances.
This approach does not even require knowledge of the IMEI code, since its code was fixed in the service and now only the name of the device is used for identification in a personal account.
See also: How to save a phone that fell into the water?
How to find out the IMEI code?
To report the theft of a smartphone to the police, you need to know the unique phone number – its IMEI. This identifier can also be viewed on the device itself if you enter the code * # 06 #, but since there is no access, you will have to look elsewhere:
On the smartphone box.
IMEI may be indicated in the warranty card. However, most often they are not filled, so the chances are low.
Important! It is necessary to block the phone number from the mobile operator as soon as possible. Especially if you have a banal graphic key or no protection at all. Just call the hotline from another device and provide your personal details as a subscriber.
How to find a phone by IMEI?
If your phone has active mobile networks, is set up to sign in to a personal Google or Apple account, and has GPS, you have a good chance of finding your device.
Android
Here is an instruction on how to find a lost phone by IMEI:
We take any other device where there is an entrance to your Google account, in which the smartphone is linked. This can be done from a computer, another phone or tablet. Or you just need to sign in to your friend's device. This is done in the "Settings" in the "Accounts" block.
We go to the site " Google Find My Device " through the browser. If necessary, select the account to which we are connecting.
If you have added several devices, you also need to select them from the available list on the site.
We are waiting for the search to complete.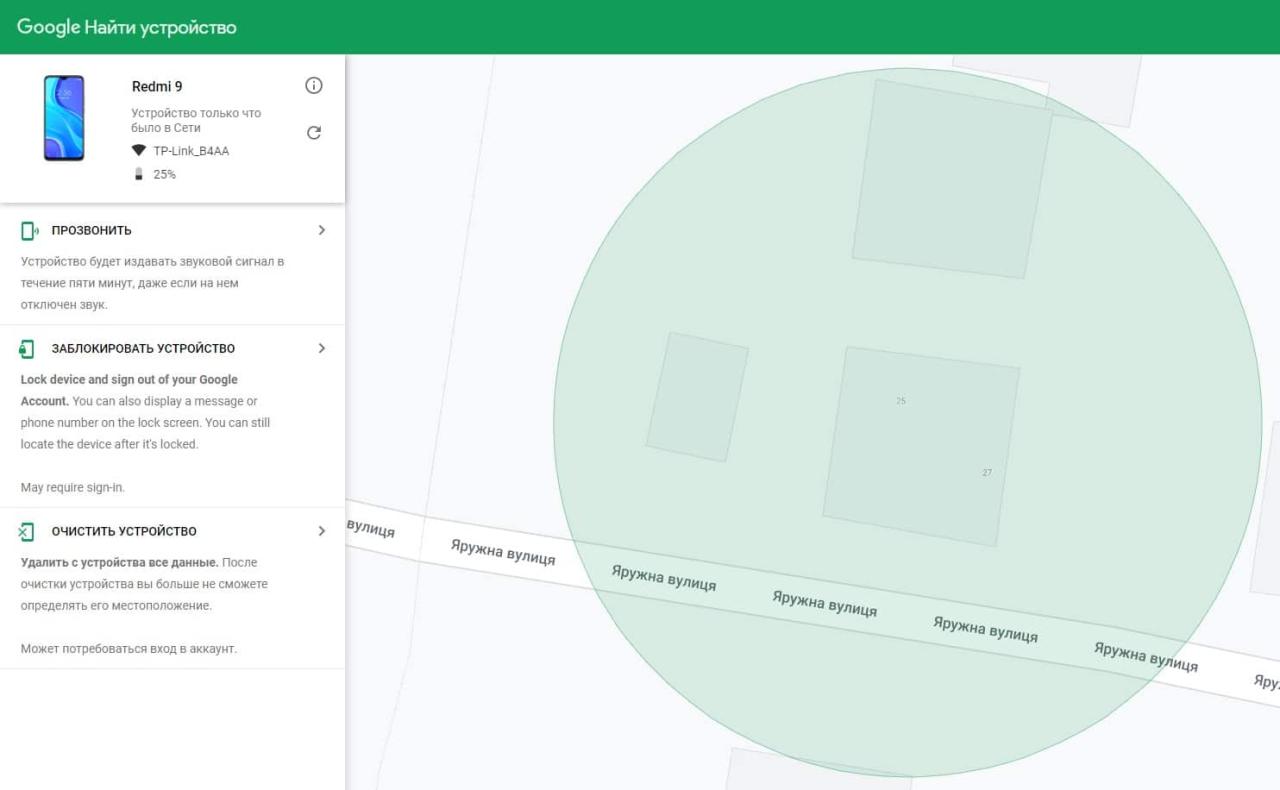 The service can find the location on the map and display it to you via the Internet. The accuracy is not very high – it is shown in a radius of about 50 m, maybe a little more. Usually the device is located in the very center of the circle, but deviations are possible. Of course, if this includes several high-rise buildings, then it will be easy to lose the device among them. If there are not many buildings around, then the chances of finding the lost device on your own are very high.
To increase the chances, you can make the phone make loud noises for 5 minutes even if it is in silent mode. On the same page of " Google Find My Device " there is such an option, as well as – "Lock device". Useful if there is a risk that your smartphone will be hacked. If there is no hope of finding the phone, it stores especially valuable data or has access to bank cards, you can also "Clear device". In this case, the tracking capability will disappear.
iPhone
How to find iPhone by IMEI:
Open the iCloud Find site on any other device.
Specify the data from your account: Apple ID and password.
We start tracking the device. Using the same page, you can activate the "Lost Mode" or "Lock" the device online.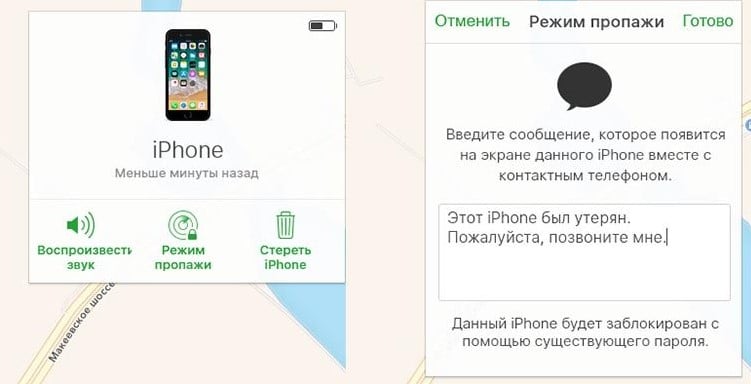 You may be interested: How to check the iPhone for authenticity?
How to find a phone by IMEI exactly will not work?
Today there are so many ways to find a lost smartphone by IMEI that don't really work that it's easy to get confused. We decided to list them separately specifically so that you do not fall for the tricks of scammers and recognize situations where they want to deceive you.
To protect your smartphone from theft in the future, download Android Device Manager.
How to find a smartphone will not work:
By satellite via IMEI . Only a limited number of people have this opportunity. They usually do not provide private device discovery services. Even if they were, the cost could significantly exceed the price of the smartphone itself. Any site or service that offers such services is a scam.
Through apps . There are reputable publications that, if you have lost your phone, offer to install IMEI-Poisk 2.0 or some other similar application. Allegedly, it is looking for a device in the databases of cellular operators. Unfortunately, or fortunately, they are not available to the public. No mobile phone company provides such data. To be honest, this is good, it would be unpleasant to know that almost anyone can track us at any time.
By phone number.  You won't do it yourself and the services won't help either.
Programs for the computer . Everything is the same as in the case of applications.
Online Services . They promise to track a switched off smartphone, a phone without a SIM card, etc. They can't do this, don't even try, you will only earn even more problems. They usually infect devices with viruses or require payment for services.
Important! After loss or theft, add your smartphone's IMEI to the LoSToleN website . This is a kind of database with lost and stolen phones. According to them, many pawnshops and buyers check devices before buying from their hands.
Do not be fooled, finding a phone by IMEI is impossible for an ordinary person if you do not have proper software training. If you've set up your device beforehand and activated Find my device on Google or iPhone, then you have a good chance. Otherwise, all you have to do is hope that the police find the smartphone. It is better to accept this fact, no matter how unpleasant it is, than to give money to scammers who promise to find your phone.