The best free cinemas for Android TV and Smart TV
In 2022, the shortage of free online cinemas for Smart TV increased. A significant part of them was blocked, including the flagship of the segment – the HD VideoBox application, as well as its successor VPlay and a number of others. Now the search for suitable applications for watching movies online has become relevant. It is important that it has a large library, is easy to use and does not impose serious restrictions. A little pre-show ads will likely still take place, but it's not that bad. Especially when compared to movie rental prices.
The best free online movie theaters
When compiling the TOP free cinemas for Smart TV, we took into account the following characteristics:
ease of installation, configuration and use;
no serious restrictions: on video quality, speed, library size;
a moderate amount of advertising so that you can watch a series or cartoon without a long wait;
work stability;
the amount of content available.
A good online cinema is fast, stable and does not bother you with ads. There is another important nuance – compatibility. Unfortunately, most free cinemas are suitable for Android TV. Not all of them work on Samsung and LG.
See also: Best analogs of HD VideoBox for Android TV
Media Station X
Cross-platform application that can be installed on Android TV, Samsung (Tizen), LG (WebOS). The service is available in official app stores. In fact, it is not a cinema in itself, it is rather a modulator or an intermediary. Through the service, you can access blocked online cinemas, and there you can already watch videos and music. The application itself does not contain any content, allowing each user to choose what he sees fit. Through the utility, you can create a link with almost any cinema on the device (TV or set-top box). For example, with the same Lampa service, which will be discussed below.
How to watch movies through Media Station X:
We install the application. You can download it from your default app store.
Click on the "Playlist" tab, and then proceed to the settings with the "Install" button.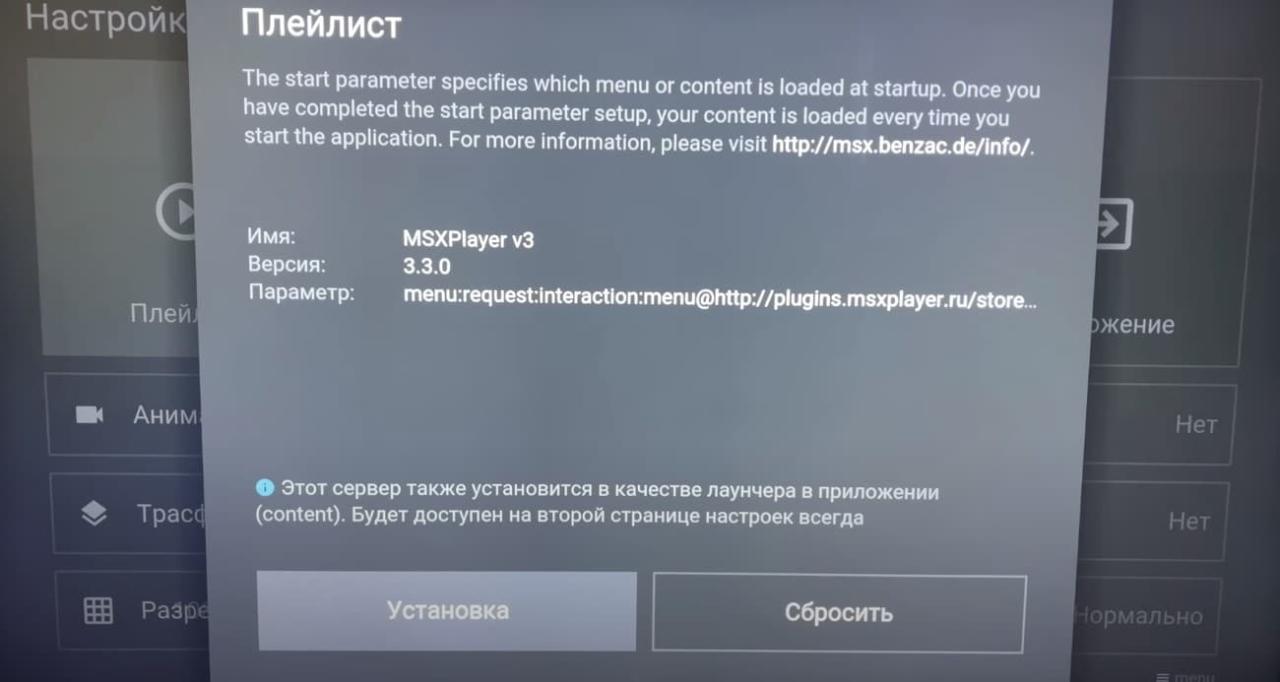 Insert msxplayer.ru into the input line and click on the checkmark to confirm the action. When the opportunity arises to click "Yes", do it.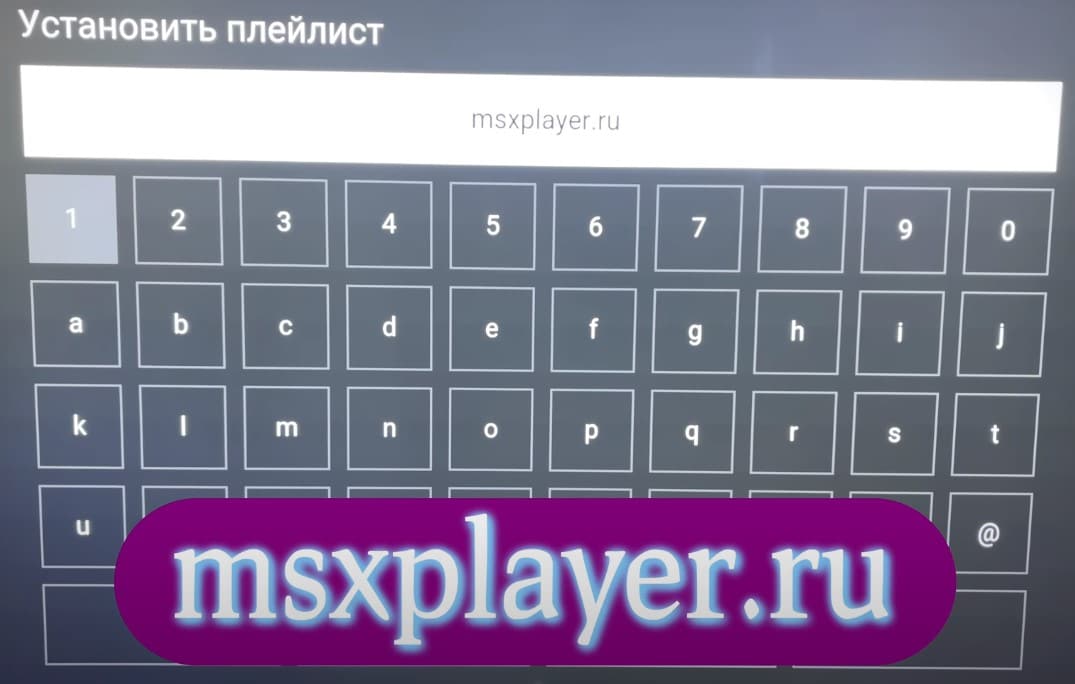 On the Launcher page, click on the plus button to add a page.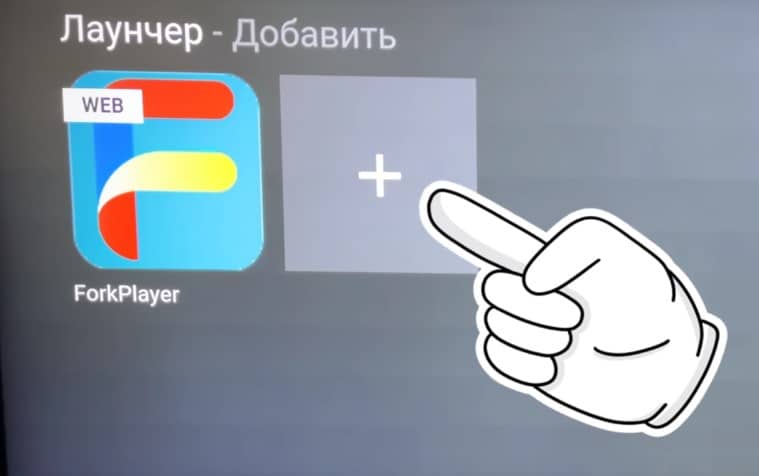 Next, select "From the store", and on the page with application options we are looking for Lampa.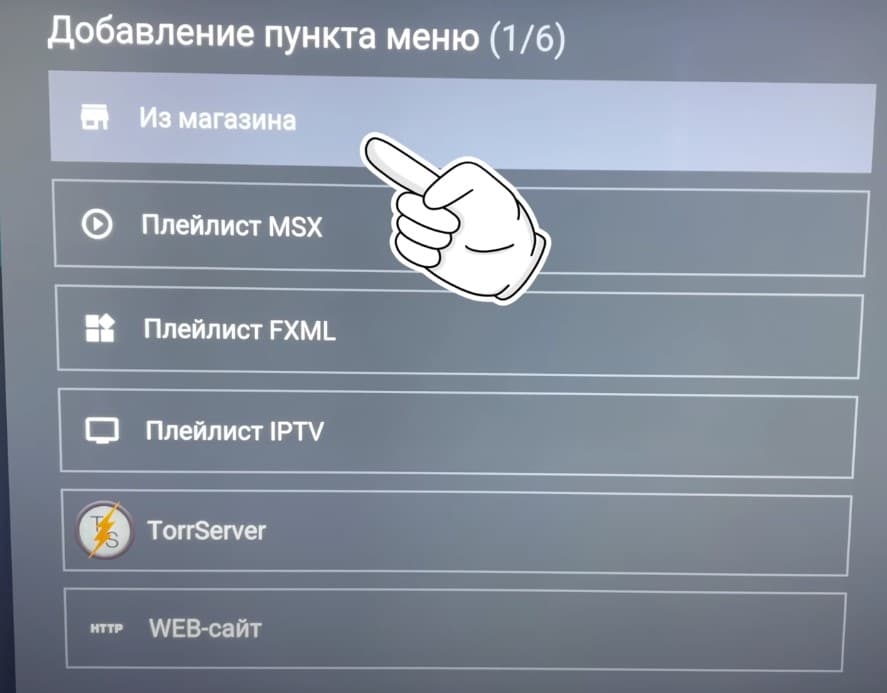 Open the Lampa tab and click "Install". While the application will not allow you to watch movies, you need to install additional plugins for it.

Go to the "Settings" section, and then – "Plugins".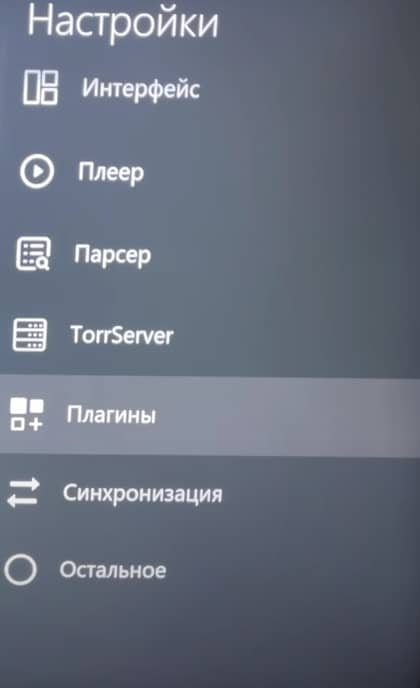 Enter links to the following plugins: http://llpp.xyz./v/vod.js , http://arkmv.ru/vod , http://jin.energy/online.js , http://llpp.xyz /ur/all.js . You may only need one or a couple of them to achieve the desired result.
We go to the page with the movie and check that there is an "Online", "Stream" or similar button below that allows you to watch the movie.
Pros and cons
gives access to a large number of cinemas, not only to Lampa
works on the most popular TV platforms
works fast and rarely lags
minimum ads
can be installed from the app store, which guarantees the security of the service
somewhat complicated installation procedure
plugins can sometimes fail and you have to look for new ones
Lampa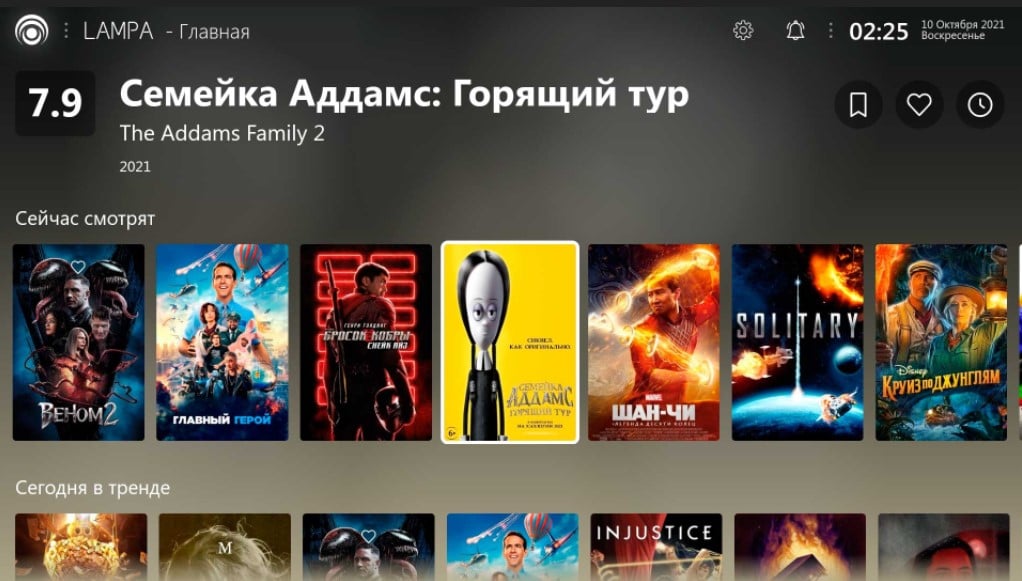 One of the modern free online movie theaters that can work on Android TV, Samsung, LG TVs. The service does not contain additional advertising, only the one that inserts the source itself into the video, where the content comes from. It looks very stylish, and in general the interface is organized well. There are no additional difficulties with lags, unforeseen cessation of playback. Plus, the app works great with TorrServe, which means it supports popular torrent platforms. As a result, the list of available films is simply huge, as is the choice of voiceovers and quality. In order not to get confused in a lot of content, there are filters that allow you to sort series by quality, translation, and the presence of HDR. Also, new items appear very quickly.
Pros and cons
many useful categories: TOP, popular, most viewed, where you can always find something interesting and relevant
supports connecting an external player, but also has a built-in
it is possible to save the movie to bookmarks, and there is also a history
can pull up movies from Rutor, Rutracker, Kinozal, etc.
Lampa requires TorrServe to be configured or plugins to be installed, otherwise it will not show anything
voice search not working
does not display movies on the home screen of Smart TV
Read more about setting up Lampa in our review.
HDRezka
HDRezka is an equally worthy service that deserves a place in the list of the best free cinemas for Android TV and Samsung (Tizen). Its advantage is that the setup procedure is much simpler than the previous options. The service draws data from Rezka.ag, a popular online movie theater that many of us used on computers and smartphones. The application has a built-in search, there are filters and the ability to make your own list of interesting content. The main advantage of the application lies in multi-platform synchronization, you can start watching a series on TV, continue on your phone while traveling home or to work, and finish on your computer.
Pros and cons
allows you to download movies to the device's memory, not every cinema offers to do this
easy switching between different devices
a good description of all films and series + providing information about ratings from Kinopoisk and IMDb
there is no anime, it is practically non-existent here
the library, although rich, is drawn from only one site, so there may not be suitable voice acting or quality
Read also: Full review of HDRezka Android TV app and Samsung Smart TV
zone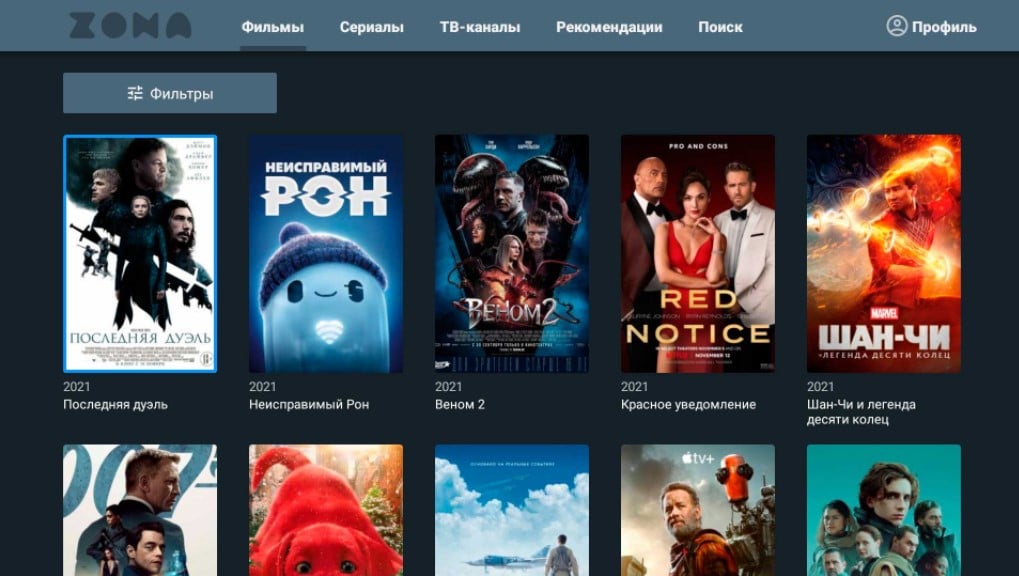 The zone includes a huge list of films and series, of which there are more than 110 thousand. It's quite common to find new Hollywood releases shortly after their release on the big screen. True, the service only works on Android TV (among TVs), but there are versions for smartphones and Windows computers. Supports voice remote control. This is a completely free movie theater with good servers that have great bandwidth. Lags are almost non-existent. Here you can also watch TV channels and listen to the radio, there are more than 300 channels.
Pros and cons
a wide range of music, movies and series
a small amount of advertising
there is a choice of voiceovers and video quality, and the range is extensive
the ability to add movies to favorites, as well as receive notifications about the appearance of new episodes of your favorite TV shows
saves the place where browsing stopped and restores it from the same place
Read more about the Zona application in our thematic publication.
NUM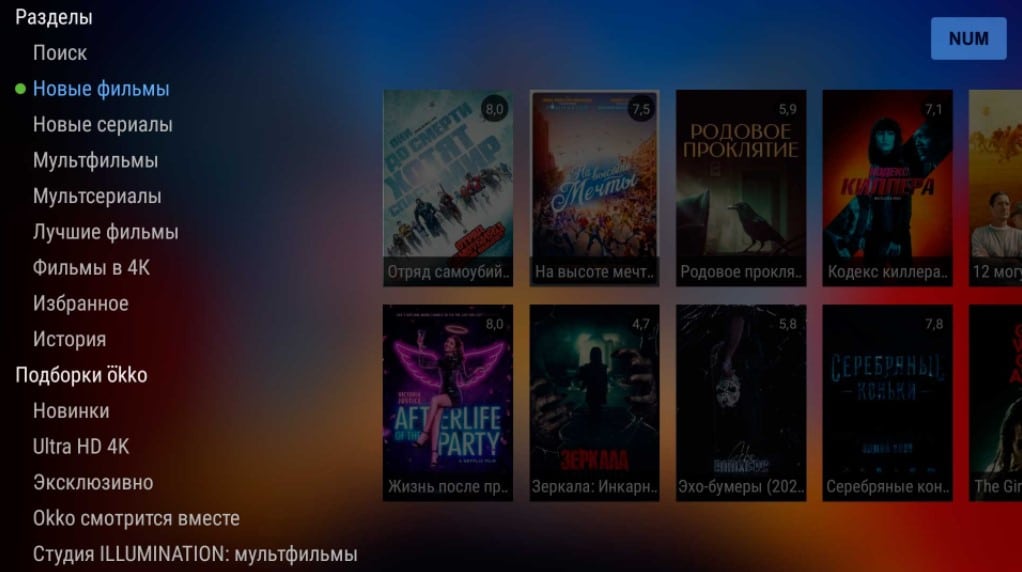 The service, in its concept, resembles Kinopoisk, that is, it offers the search for films and the study of information about them. However, with the installation of TorrServe or AceStream, NUM allows you to watch movies for free, unlike its competitor. It does an excellent job of searching for content from different sources, and also knows how to bypass regional blocking for movies, although it does not work perfectly. There are all the important attributes of a good cinema: the choice of quality and voice acting, support for voice search, plays content in 4k, there are favorites and playback history.
Pros and cons
automatically searches for popular trackers like Rutor, MegaPeer, Torlook
huge selection of voices and quality
there is a built-in player, but you can choose your own
you can immediately download the modified application under TorrServe
requires installation of TorrServe, which complicates the development of the service
does not work on Chinese set-top boxes without Android TV
Outcome
So which online cinema to choose from the ones listed above? We will give tips to whom and which service is best suited.
Which free cinema to choose for Smart TV:
Media Station X is for those who want to access several cinemas at once. Works on Samsung, LG and Android TV.
Lampa is for users who prefer a beautiful design and quick search for interesting content on the main page. For Android TV and Samsung.
HDRezka is for people new to technology who don't want to tweak anything. The application is ready to work immediately after installation, but only for TVs on Android TV, as well as PCs and smartphones.
Zona is for those who prefer a balance between functionality and ease of use. And also for people who also want to listen to the radio and watch TV channels. Only for Android TV.
NUM – suitable for active users who prefer a large selection of voiceovers, resolutions. Another application is well suited to all fans of new products. Exclusively Android TV.
There are plenty to choose from: from very simple services with their own library of free movies to aggregators that provide access to many torrent sources. There are options for every taste and color, as well as the skill level of owning a TV.
Let's conduct a small survey – which online cinema do you use and why? Questions about the topic of the article are also welcome.