Why did the apps on the TV stop working?
Over the past couple of years, a situation has been increasingly observed when applications on Smart TV do not work. Here it is important to determine whether this problem affects all services at once or occurs only with one of them. Is the problem accompanied by some kind of error or not? In most cases, users write, applications stop working selectively and no notifications appear. Just a black screen or the program crashes to the desktop. Although this is the most common problem, it has many varieties. In today's guide, we will describe the reasons why this can happen, and what can be done to fix the problem.
Why apps don't work on Smart TV?
The main reasons why applications on Smart TV do not work:
the TV does not meet the minimum system requirements of the application;
there was an accidental system failure of the operating system;
invalid cache saved;
an outdated version of the application is installed;
damage to user data;
inappropriate network settings;
conflict with some other Smart TV features;
violation of the integrity and serviceability of the operating system.
It is possible to check which of the listed problems takes place only empirically. As specific problems are eliminated, the search circle should be narrowed to such a scale that the culprit of this kind of failure becomes clear.
See also: TV Remote App for Smart TV
Which app stopped working on the TV?
You just need to understand what exactly is at stake. Perhaps all applications or many of them have stopped working and this clearly indicates either the operating system or the Internet. Usually, we are talking about one or more services that have ceased their activities. Here we have collected those of them that users often complain about. Some of them simply stopped being supported, so there may not be a solution for them.
What applications do not work:
HD VideoBox . HD VideoBox has been blocked for some time, but you can find analogues of the service at the link to continue watching movies and series for free. There are also instructions on how to make the application work.
Lampa , N.U.M. _ Now there is an active fight against pirated services and there is a possibility that their time has just come. Alternatively, you can try installing an older version of the app.
Okko , Wink , Kion . All these are domestic services that will not work outside of Russia (and with IPs of other countries as well). In other cases, they can be customized.
Megogo , IVI . Popular services that may not work for various reasons, but most of them you can fix yourself.
We watch Ru , Match TV , NTV , etc. Most often they do not work due to service failures. They are probably having technical difficulties right now. Actions on our part may also work.
YouTube . Very often there are questions about this service from users of older device models and not only. We have a whole article on the topic: "Why YouTube does not work on Smart TV", we recommend it for study.
What can be done if the application does not work?
Due to the difference in operating systems on TVs, not all solutions below apply to certain devices. Smart TVs from Sony, Xiaomi, Philips and other Android TV devices allow you to clear the application cache, which cannot be done on Samsung and LG TVs. Most of the solutions are applicable to all devices, although the names of some items in the settings may differ slightly.
Where to begin:
Restart TV . The simplest, most versatile and working action. Just turn it off, leave it like that for 1 minute and turn it on again.
Check the minimum system requirements . It is possible that the version of the operating system does not satisfy the application's requirements. This is easy to do on sites that distribute these same services.
Clear App Cache
If applications stop working on the TV, you should try deleting the cache for them. This will log you out of your account and possibly fix the problem.
What should be done:
Let's go to "Settings".
Go to the "Applications" tab.
We select from the list what is not working as it should now.
Click on the "Clear Cache" or "Clear Data" button.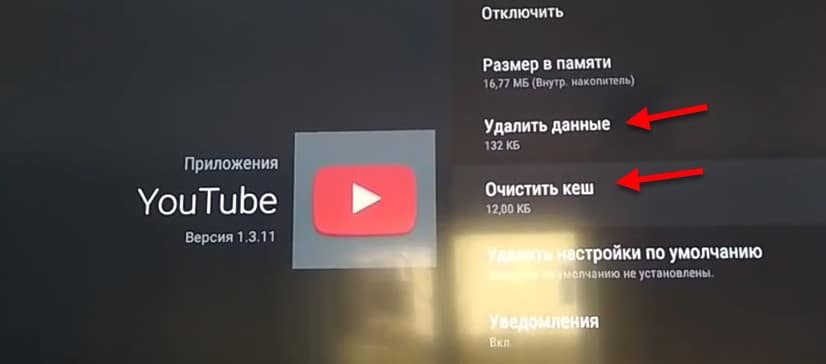 This feature is only available in Android TV and not in all versions, but it's worth a try.
See also: How to clear cache on LG TV?
Update program
Very often, the issue is that the application is outdated and it just needs to be updated. You can find detailed instructions on how to update applications on any TV at this link. To do this, it is most convenient to use the branded application store. In the same Google Play there is a "My Apps" tab, where a list of all services for which updates are available will be displayed.
Reinstall service
A very effective method that helps in a significant part of the cases.
What to do if applications on the TV do not work:
Through "Settings" – "Applications" we find the problematic program.
In the menu with its description, click on the "Delete" button.
We install the application again either from the built-in store, or from Aptoide TV, or through the apk file and widgets.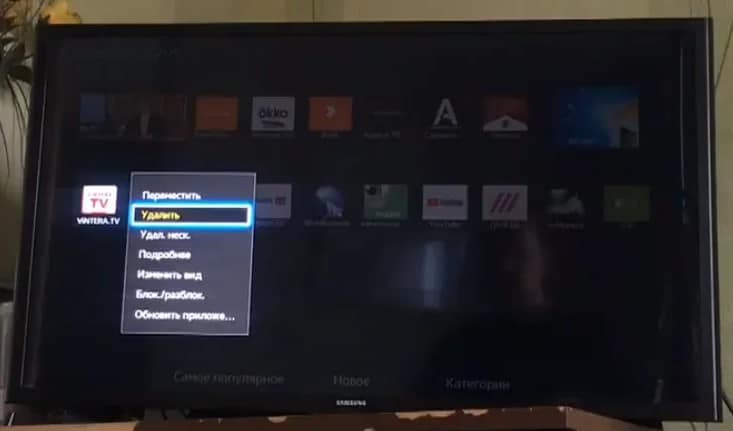 Read also: How to uninstall an app on LG/Samsung Smart TV?
Reset personal data
Quite often, logging out and re-logging into your account works, along with reinstalling the application.
What to try:
Delete the application from the TV. You can even do it from the home screen by holding down the "OK" button on the remote control, and then select "Info" or "About the application".
Go to "Settings" and click on your account, which you are logged into and click on the "Log out" button.
We are trying to install the application in an alternative way (not through Google Play), if it concerns Android TV. For example, through APK or Aptoide TV. On Samsung and LG, you can skip the step.
We log in to the account and install the service again.
Networking
Some applications are especially sensitive to the quality of the Internet, plus there are many services in Russia with certain regional restrictions. This topic needs to be given sufficient attention.
How to restore broken applications:
Switch to another access point . The easiest option is to distribute the Internet from your phone and connect to it from your TV. We try to see if the content is loaded on this channel.
Change DNS . Let's take Samsung TV as an example. Open "Settings" – "General" – "Network". Go to the "Network Status" section and select "IP Settings". On the next page, we look for the item "DNS Settings" and set domestic IP addresses. Here, for example, from Rostelecom: 208.67.222.222 and 77.88.8.8.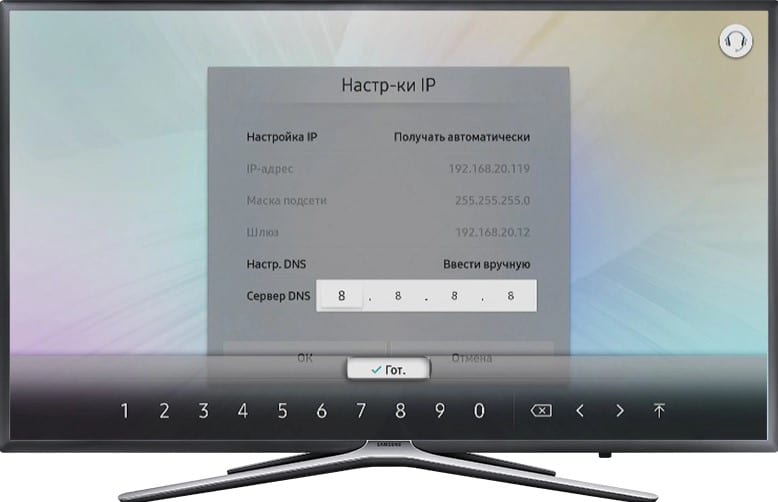 Disable or enable VPN . If the problem is blocking connections from IPs of certain countries or regions, you should try switching to other IP addresses or returning to your original one. A more stable connection will be from your own IP, so you should first disable the VPN.
Updating or reinstalling the firmware
Before taking more drastic measures, you should just go to "Settings" and try to update the operating system. Usually the desired item is in the "Support" or "Info" section. The system will start searching for the latest versions of Smart TV and, if found, install them. Flashing the device is a last resort and should only be used if everything else has failed.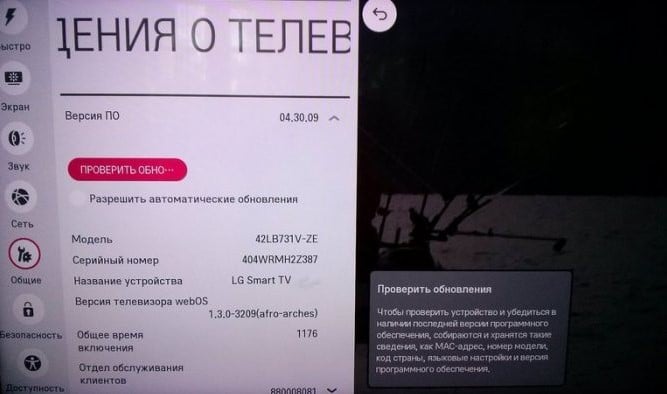 Additional ways
There are several other ways that can have a positive effect on this problem:
Disable voice search . You should temporarily turn off Google Assistant through the settings, sometimes it interferes with other applications. Especially Megogo and IVI.
Remove app updates . This option should be present in most Android TV devices. Just go to the application management page and select the "Uninstall updates" action. After the next start of the service, it will be automatically updated, but this time there is every chance that it will be operational.
Reset Smart Hub . As a result of the procedure, all applications on the Samsung Smart TV will be uninstalled, and then those that were added from the factory will be reinstalled. Together with this procedure, all these services are deleted. It is only important to make sure that the TV is certified in Russia. This is evidenced by the codes in the model name XRU or EAC.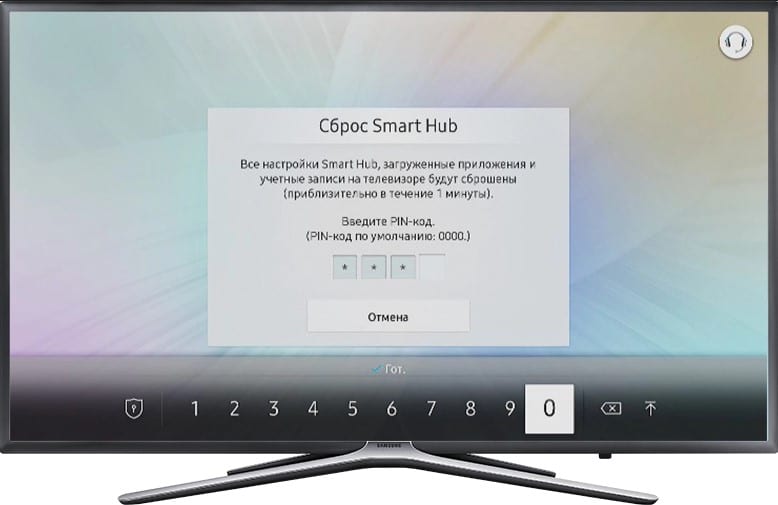 See also: Why does voice search not work on TV and how to set it up?
One of the above should make the application that stopped working on Smart TV come back to life again. Of course, with the exception of those services that are no longer supported by developers or are officially closed.