The next version of Chromecast 2020 today is the 5th generation of devices. The Chromecast with Google TV is a more advanced model than the Ultra, and this time it can cast a picture in 4k resolution, it comes with a modern remote control. Google TV also has some differences compared to Android TV, which are associated with some advantages. The Google Chromecast review will help you decide whether it makes sense to upgrade your older generation Chromecast and buy the set-top box as a whole. Also, who should appreciate it, that is, what is the main audience of the console. On the one hand, the review is late, on the other hand, all the strengths and weaknesses of this product are now best known.
Specifications
Main characteristics:
Storage: 8 GB;
Video: up to 4K 60 FPS, Dolby Vision, HDR10, HDR10+;
HDMI version: 2.1;
Audio: DTS, Dolby Digital+, Dolby Audio, Dolby Atmos;
WiFi: 802.11ac (2.4/5GHz);
Bluetooth: yes;
Software: Google TV (Android 10);
Dimensions and weight of the console: 162 × 61 × 12.5 mm, 55 grams;
Remote control sensors: accelerometer, infrared port, microphone;
Price: 4000-5000 rubles on average.
The company sells the Chromecast GTV in a compact package that includes a remote control, 2 AAA batteries, a USB cable with a power supply, and a compact instruction manual.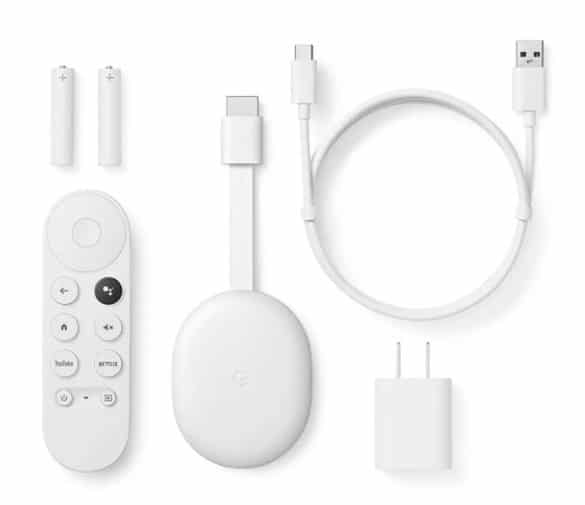 Read also: Review of Ugoos x4 Pro, Cube, Plus consoles
Appearance
Visually, the device is not very different from its predecessor, only the shape has changed slightly (from round to oval). The entire body is streamlined, made of matte plastic. It is pleasant to the touch and does not accumulate fingerprints. Available on the market in 3 colors: white, blue and pink. It has a monolithic HDMI cable, the length of which is 5 cm, excluding the input. The power connector has a classic USB Type-C format. There is also an LED on the case and a button to reset the set-top box to the state from the factory.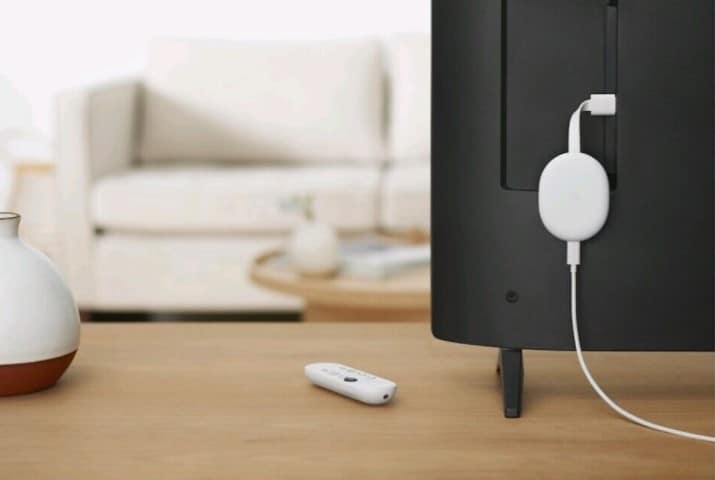 An important note – the new Chromecast does not support Ethernet connection, unlike its Ultra predecessor. Only Wi-Fi, which is not so scary. Optionally, you can buy a PSU with a LAN connector for cable connection, but it costs about 1,500 rubles.
Remote controller
The remote control is very compact with a small number of keys on the front panel. Only 9 main buttons + joystick. What's interesting are the shortcut keys for YouTube and Netflix, as well as the Google Assistant. The rest of the keys are already familiar and do not need to be presented. To change the volume level, there is a knob on the side panel, similar to smartphones.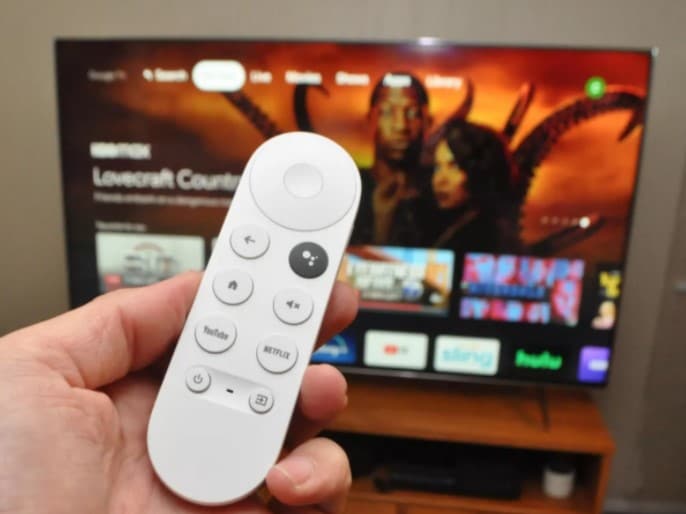 Accessories
The far more important part of the Google Chromecast review with Google TV for most readers. Here is the most important thing that is in this model:
Chipset – Amlogic S905D3G. It is known for good stability and relatively low thermal output. At the same time, it has 4 Cortex-A55 cores with a frequency of 1.9 GHz and a Mali-G31 MP2 graphics core at 850 MHz. For 4k processing, this is enough.
Memory. RAM 2 GB, a little, but the device is enough. Built-in memory is 8 GB, but the Google TV system takes up half of it. It is clear that it is impossible to store films here.
Net. Supports Bluetooth for remote control interaction with the set-top box. Works stably with Wi-Fi 2.4 GHz and 5 GHz bands.
See also: How to watch movies from torrents through TorrServe?
Software
Yes, at first it is not clear what is the peculiarity of Google TV and why this operating system is needed at all if there is already Android TV. In fact, the OS is practically no different from the familiar to many Android. The only difference is the use of the new launcher. To be honest, this is even good, because on the new console you can put almost any application that you can imagine.
Notable differences between Google TV and Android TV:
More featured content . It occupies a significant part of the main screen, taking away some of the space from the list of pre-installed applications.
Google Play is on a separate menu tab . You do not need to enter the application itself, since the main services and catalog search are available from the main menu.
Advanced search . Under it, a whole tab was allocated. Popular queries are immediately displayed here, and it is also possible to sort everything by genre.
Library . In addition to purchased content, you can store movies here, as in favorites.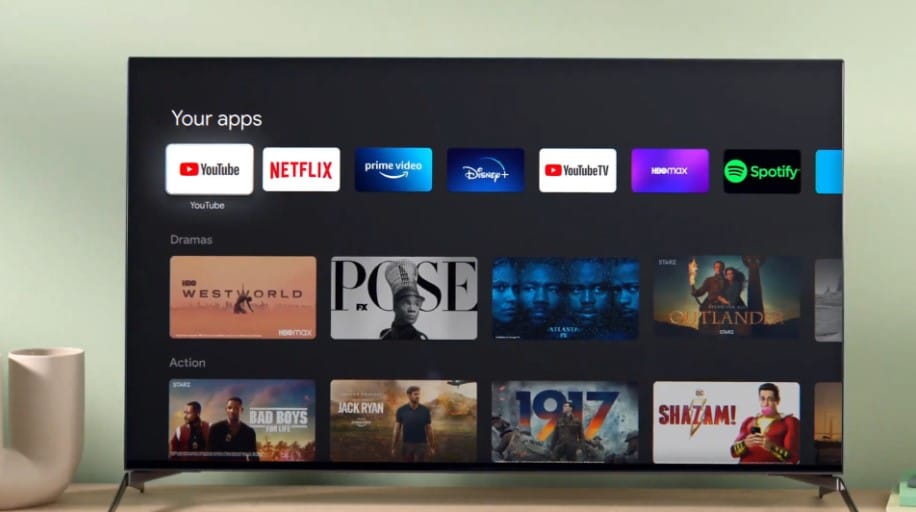 Features of work
Now it's time to describe the general impressions of the device. Let's divide them into what we liked and what caused inconvenience or some questions.
Positive features:
Setting . It happens extremely simply and quickly through the Google Home smart home application. You need to scan a QR code, the rest of the procedure is almost completely automated.
Content broadcast . One of the main reasons for buying a device. There is nothing special here, the function works and does not raise additional questions. Supports streaming from a smartphone, tablet, etc. through various applications.
You can use Android TV Remote Control to set up the media player . Allows you to almost completely replace the standard remote control. It's just convenient, and in case of loss or breakage is very useful.
Good image quality . 4k at 60 fps is a good result for such a small device. The player also supports Dolby Vision and modern versions of HDR: HDR10, HDR10+.
Deep sound . Support for Dolby Digital, DD + and Dolby Atmos affected the sound quality for the better. Movies are fun to watch.
performance . Even large films from the Internet or a local network pull perfectly, without hitches and long buffering. True, for this you need a good video player. The interface itself is nimble, responsive and smooth.
Working with streaming platforms . Video from YouTube and Netflix pulls and does not create a feeling of thoughtfulness of the set-top box at any resolution. The launch of the application itself takes 2-3 seconds.
Application installation . They can be quickly installed from the Play Market, but there is also support for third-party applications. This only requires the presence of an apk file.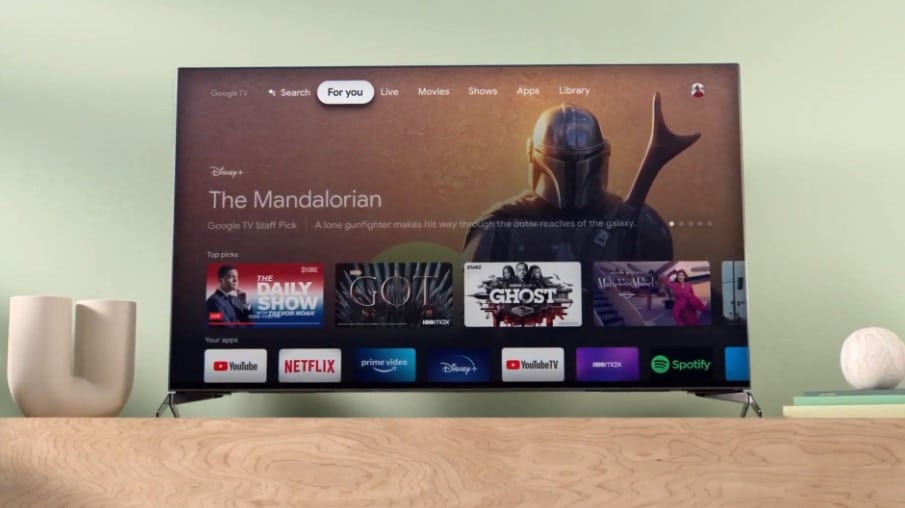 A little upset:
Doesn't work from USB . There is not enough power from any USB connector on the TV. Requires connection of the product only to the outlet.
Not officially sold in Russia . You can find it in separate stores or on Avito, but if you go to the same MVideo, this stick will not be there. Google as a whole has been ignoring the CIS market for more than a year, not pampering the buyer with official deliveries of new products.
No support for multiple users . If the buyer wants to set up an account for a child, this will not work.
See also: How to flash any TV box?
Conclusion
In general, we were satisfied with the Chromecast media player with Google TV and the review demonstrated this. Of course, it is not without flaws, but the model has a place in the market and a potential circle of buyers. Chromecast 2020 is worth choosing if you are looking for a device for 4k streaming from YouTube and you are not interested in games. There are many such people, this is the most popular goal of the majority. However, in the absence of a 4k TV, the point of the stick almost disappears. Our verdict, as is the case with most users, is that Chromecast with Google TV is an affordable and attractive product for making a simple TV smart.