Aptoide TV is the most hyped alternative app store for Android TV. By itself, Aptoide is an analogue of the Play Market, with the only difference that its developer is another company, and not the ubiquitous Google. Over time, it became clear that sometimes this is even an advantage, not a disadvantage. The Aptoide TV app for Smart TV is a highly valuable source of apps with a user base of over 230 million.
Who needs Aptoide TV and why?
Most likely, many already understand what kind of program this is, but there are some nuances that need to be said at the very beginning. First, Aptoide and Aptoide TV are different applications. The first works for Android mobile devices, as well as pure Android TVs and set-top boxes. The second is designed specifically for Android TV. Secondly, the service does not have a regional blocking of any applications, which is an undoubted advantage.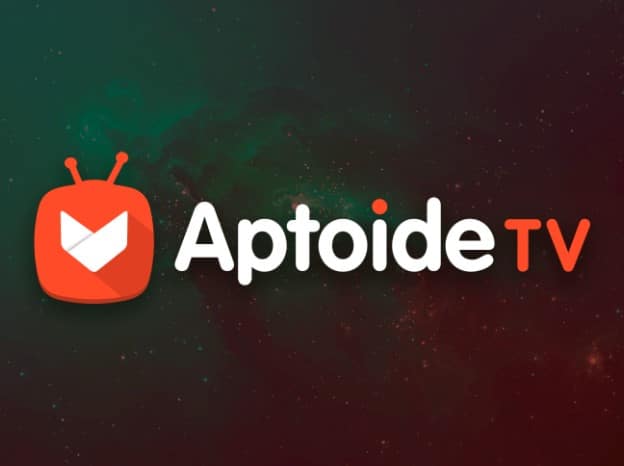 Who should install Aptoide TV and why:
To download applications that are not available in the Play Market. You won't be able to download the app if Google didn't let it through, if your country is blocked, it doesn't comply with the service's policy, etc. The requirements in Aptoid are much lower and the number of apps is an order of magnitude larger.
For those who want to download a paid application for free. Installation from this service is possible even for those utilities that require a Pro-status payment or are simply paid. Of course, not all, but many.
The Play Market does not work or is missing on the TV. It is better for Android smartphone, TV and TV box to immediately download this application store.
Read also: Review of the Zona app for Smart TV
It's appropriate to think of Aptoide TV as a more comprehensive app store specifically designed for TV.
Is Aptoide TV safe?
Anything unofficial and semi-official should raise security concerns. This is the first rule of using the Internet. In this case, you should not worry, at least not much. Like the Play Market, Aptoide has its own protection system, scanning game files and services. Neither in the first nor in the second case there are guarantees of 100% security. Often there is news that even Google Store files infect and Aptoide is no exception.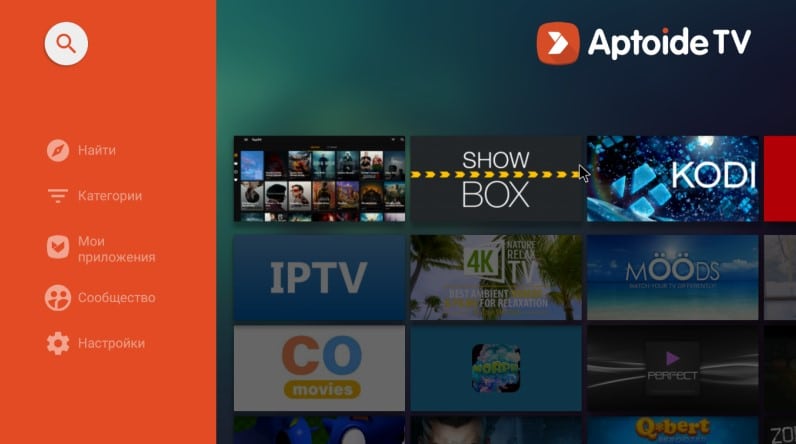 Are there risks? Yes, but they are small. Basically, problems arise for those who install little-known and very young applications. If you need popular, proven by thousands of users services, and most likely you are, there is nothing to worry about. Yes, and the TV does not store particularly important data, such as bank card information. The risks are small. Perhaps only slightly higher than when downloading from Google. Among all the alternative stores, Aptoide is the most reliable place.
Where can I download Aptoide TV apk file?
There are many ways to download Aptoide TV apk file, install via links or from another store. Several methods are described on the official website . We will describe the best options for download and installation.
How to install Aptoide TV for TV:
From apk file . There are already generated installation files for smartphone and TV. The current version at the moment is 5.1.2. The best place is the official Aptoide store , where the latest version in Russian is always available. Here are spare links for Malavida , DTV , APKcombo .
Through Aptoide . The essence of the method is to first install a clean Android store. For example, you can download from w3bsit3-dns.com . By the way, there is also an up-to-date version and Aptoid TV right away. Install the store, go into it and install Aptoide TV already.

The main advantage of the methods is that it is possible to install not the latest version of the program. On sites, you can often choose a version, for example, 5.1.1, if there are any problems with 5.1.2. The minimum required Android version is 4.0.4. The installation procedure itself is simple, on the sites you need to click Install or Download.
App store pros and cons
Aptoide TV really has a lot of advantages:
automatic installation of applications (without the need to download apk files and install them manually);
updates come as they are released;
there are no restrictions on downloading and installing programs;
you can install not the latest versions (there is a tab "Other versions");
a wide range of various programs and games;
flexible options for filtering search results;
good compatibility with Smart TV and set-top boxes on Android and Android TV;
ease of use, the interface does not cause difficulties in use;
high level of security, especially when compared with other alternative stores;
Russian-language interface;
most applications are supported by developers.
Disadvantages of Aptoide TV:
quite a lot of advertising;
rare bugs with support or unavailability for download.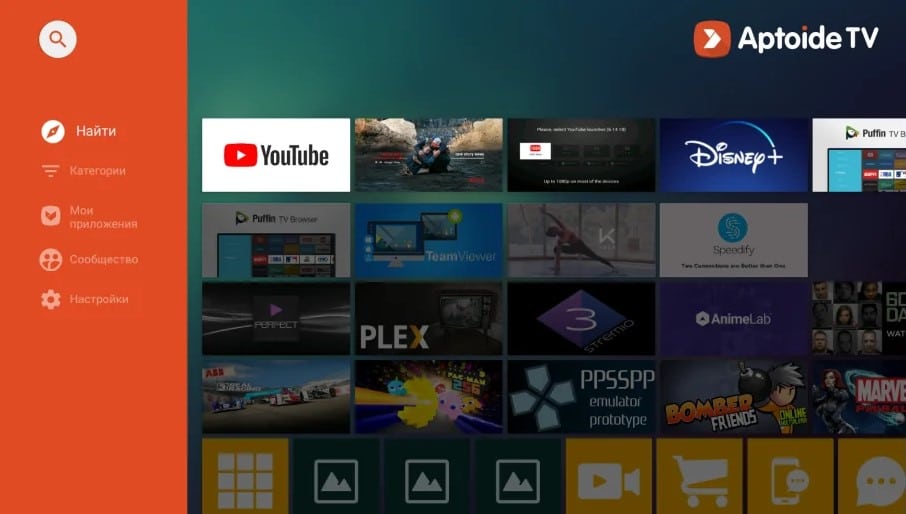 Read also: HDRezka app review for Android TV and Samsung Smart TV
Registration in Aptoide TV
To get access to all the features of Aptoide TV, we recommend registering. This is especially useful for those who use the service on multiple devices. Synchronization between devices will allow you to remotely install applications, keep track of updates, etc.
How to register in Aptoide TV:
Let's go to the registration page .
Enter your details and click on the "Continue" button.
We confirm our mail using a link or a code that will come to the mailbox.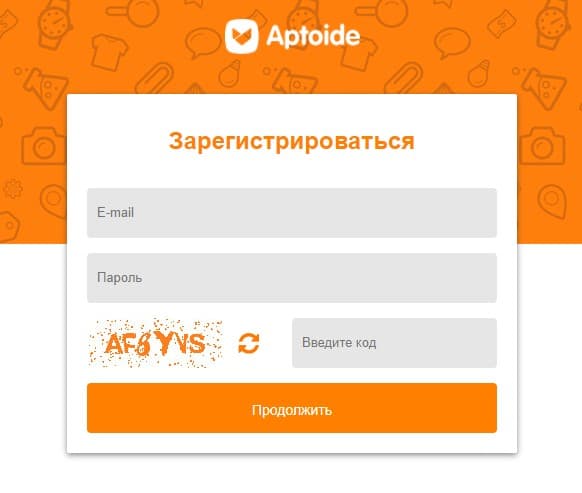 How to use Aptoide on Smart TV?
The principle of use is very similar to the Play Market. Conventionally, the entire procedure of use can be divided into several steps:
Search . The easiest way to find apps is by category. The entire list is divided into thematic groups, where you can quickly find something suitable. This method is suitable for people who are looking for a player, IPTV, an application for watching movies, etc. If you know the name of the service you are looking for, just enter it in the search. To search, you need to click on the image of a magnifying glass in the menu on the left.
Installation . Once on the page with the application as a result of your search, all that remains is to click on the "Install" button.
Update . In the "My Applications" tab, you can delete, update the utilities installed on the TV.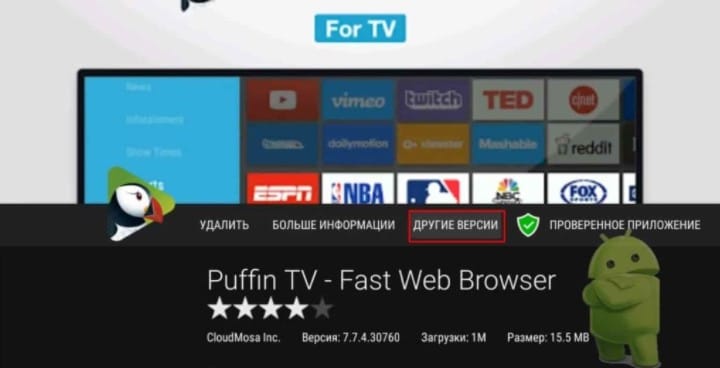 Why is Aptoide TV not working?
Aptoide TV works quite stably on all TVs of the Android operating system: from Xiaomi to Leff. There are rare problems and here is how you can fix them:
The app store won't open . It is worth reinstalling it, as well as checking compliance with the requirements. The operating system must be 4.0.4+, and we are talking about Android TV. For pure Android it is better to use Aptoide.
Hangs up or doesn't work . Permissions should be checked. Probably, they are not enough for the full operation of the service. First of all, access to the storage, media and files is required, otherwise the installation is not possible. It is also worth going to the settings of the Aptoide TV application and clearing its cache and data.
Application doesn't work . It's worth trying to go to the "Other Versions" tab and install an older version. It's possible that the latest update didn't work properly, or the system requirements were updated.
Also Read: Lampa TV App Review
We can complete the review of Aptoide TV. We will not list the huge number of valuable applications that can be found there. Let it be a surprise. And the list is quite wide, you can find almost everything you need. This is really about the best alternative to the Play Market for TVs, which in most respects even surpasses the official service from Google.