If you have a 3-4 year old who really likes cartoons, YouTube and other entertainment on TV, it's time to think about limiting his digital life. Maybe it's time to put a password on your Smart TV TV? This looks like the most appropriate solution. It is wise to set parental controls on the device to block adult content as well as reduce TV time in general. See this article for more details.
Can I put a password on the TV?
If you answer the question as a whole, then: "Yes, blocking is possible." Again, a lot depends on the device. On some operating systems, you can configure the function more flexibly. On other TVs, using parental controls is an order of magnitude more difficult and less convenient. However, on almost all models, one way or another, there is a mode for blocking television programs and applications.
Existing lock types:
When turned on . A rather rare type of blocking, which is not found on all devices.
Channel protection . Parents can block some channels. To be able to use it, you need a code. Naturally, children should not know.
Application lock . For example, you can put protection on YouTube or movie services that charge a fee from your bank card for paid content. This includes IVI, Megogo, etc.
Password protection of sources . The same LG TVs allow you to put a code on the HDMI input or any other. A good option for those who connect the set-top box to the TV and play too much on it.
How to put a password on the TV?
The differences between operating systems are so significant that it will not be possible to describe the instructions for setting a password once and stop there. Then there will be many questions on specific manufacturers. We divided all devices according to the operating system on which they work.
LG (webOS)
LG has a very well-designed parental control system, as it allows you to block almost everything you need. Most of the settings are in one place, so the instructions below should help.
How to put a password on an LG TV:
Open the settings (via the main TV menu or using a special button on the remote control).
Go to the "Security" section.
At the top of the section, there is one toggle switch that needs to be turned on.
After that, enter the password that will be required to unlock. The default is 0000, but we recommend that you "Reset Password" immediately.
We include those blocking systems that suit us best.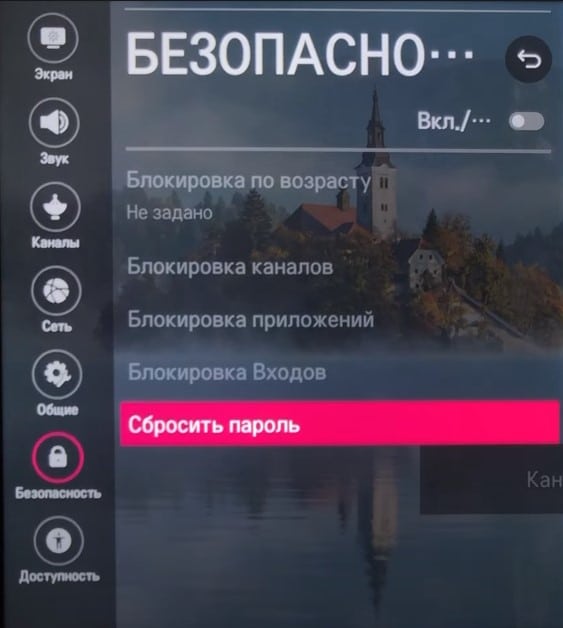 This menu contains the following parental control systems:
By age . If we activate the option, after that we enter the age of the child. Now TV channels with age restrictions that the child does not pass will require a code to be entered.
Channels . You can block specific TV channels that may be undesirable for the child's psyche.
Applications . From the list of installed applications, you can put protection on absolutely any service.
Inputs . Allows you to set a lock on any source or several among all that the TV has.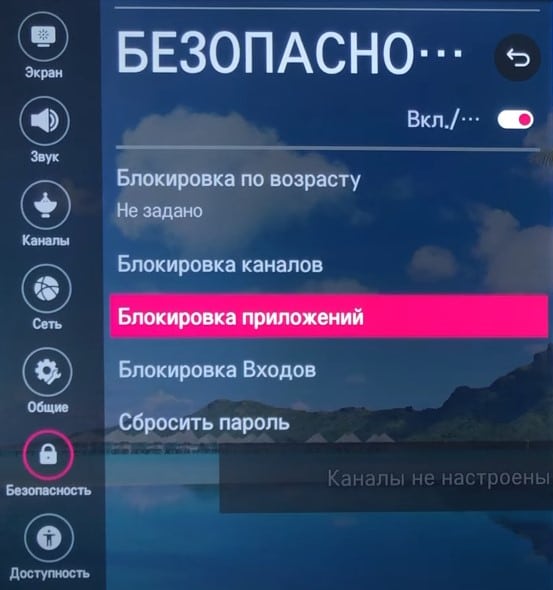 Samsung (Tizen)
Parental controls on Samsung TVs are arranged in a similar way. However, it is an order of magnitude less functional than in the previous case. All you can count on is blocking the channel. There is another trick, and it is to set a password for connecting to the Internet. Without a Wi-Fi connection and blocked channels, Smart TV becomes almost useless.
To block channels on your Samsung Smart TV, you need to enable the "Channels Block" option. Usually it is located in the "Broadcast" settings block, but it may be in a different place, depending on the version of the operating system. From the list of channels, select those on which passwords will be set. The standard password is unreliable, even a child knows it – 0000, it is better to change the code.
How to change password on Samsung TVs:
Open the menu and go to the "System" tab.
One of the items will be "Change PIN", click on this item.
Specify the old password (default 0000) and enter a new one in the next window.
We save the changes.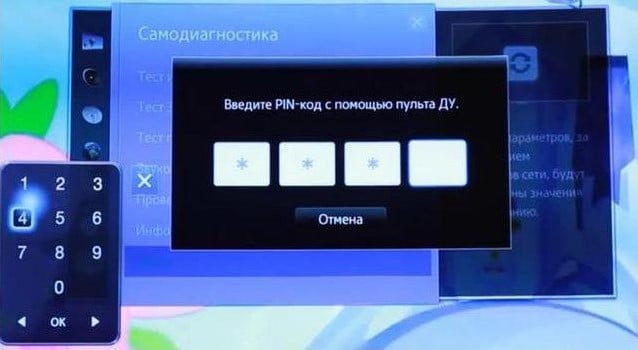 Some versions of Tizen have the ability to set a password for applications, others do not. It's worth a try. You should look for the option in the "Settings" – "Applications" section. There is already a "Lock / Unlock" option. To put a password on the network, you need to open "Settings" – "Network" – "Network connection" and activate the option to enter a code to connect to the Internet.
Android TV
TVs from Sony, Xiaomi, TCL, Haier and other manufacturers based on Android TV have parental controls. Its functions are plus or minus the same everywhere, but the location in the settings menu is often different. In some devices, you should also look for it in the "Settings" – "Security" or "Restrictions" section. Many TVs offer a slightly different mechanism than the standard one. Let's take a look at it below.
How to enable parental controls on Android TV:
From the main desktop, go to the profile (the icon in the form of a man in the upper right corner).
Create an account if you don't have one. Usually tied to a phone number. We can talk about branded profiles of the same Kivi, and about Google accounts.
Select the "Parental Control" option and create an account with limited access.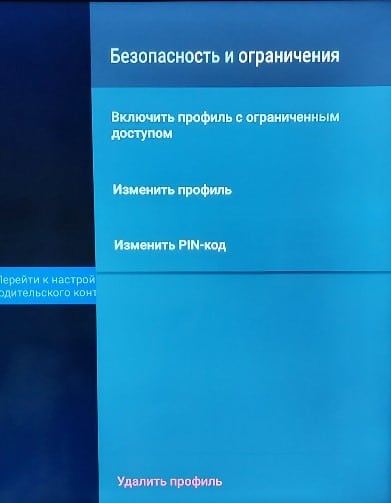 We create a PIN code that will unlock protected items.
Select the type of blocking: applications, TV channels, etc.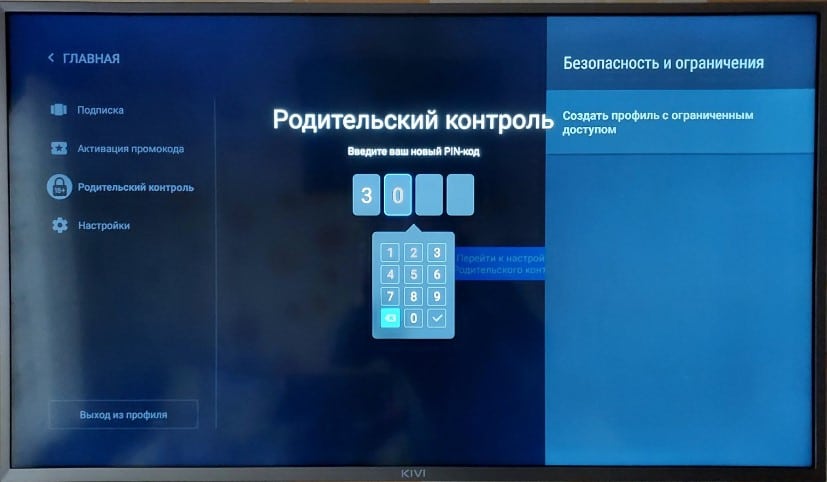 For ease of use, you can switch between different profiles. In parent account mode, you get access to all content. Before passing the TV to a child, simply switch to a restricted profile. If the child manages to somehow bypass the protection to launch the application, you will receive a notification in the messenger or via SMS.
Parental control apps
There are a number of parental control apps for Android TVs. These are both tvusage and Blocky, which can be found in the Play Market. Only for their work it is necessary to issue sufficient permissions. Unfortunately, not all devices have the ability to issue such permissions. It's worth a try, you need to manually go to "Settings" – "Applications" – "Permissions". What rights they need are indicated in the main menu of the application.
How reliable are parental controls?
Fortunately or unfortunately, parental controls aren't particularly reliable. For this reason, older children and teenagers will be able to bypass it quite easily. Often they have built-in bugs that allow you to bypass the blocking: through settings, deleting and reinstalling applications, etc. There is another common vulnerability – the ability to reset the PIN code. The function is designed so that in case of loss of the password, it can be restored. Here are the instructions for different Samsung TVs. Other devices also have similar technologies.
Putting a password on the TV is possible in most cases. If setting a code to start TV is still a rare option, then protecting applications, channels and other things is already commonplace and is present in most models. Although parental control is not so reliable, it will be enough for a child under 10 years of age.