Singing makes life more fun and interesting. Moreover, the technical base is minimal (for amateur performance), and everything else depends on you. If you have a Samsung, LG, Panasonic or other manufacturer's TV at home, as well as a microphone, this may already be enough. There are nuances, it is especially important whether your Smart TV includes a platform or not. The choice of the method that we will choose together to connect the karaoke to the TV will depend on this factor.
Can you connect karaoke to a TV?
Although the means to achieve this can vary greatly depending on the equipment available, connecting karaoke to a TV is always possible. Although for outdated TVs without Smart, the procedure will be somewhat complicated. An additional device is required.
See also: How to connect a soundbar to a TV?
What is needed for this?
To set up karaoke on your TV, you will need a few key devices:
TV . If we are talking about Smart TV, then it is possible to connect directly. Speaking of old-style TVs, you will have to additionally use a DVD player or computer.
Microphone . A wired device is easier to connect to most TVs, including older ones. Wireless models with Bluetooth connectivity require the TV to also support this technology.
Program . If you have a karaoke center or DVD, you must have the necessary software built into the device. On Smart TV, you will additionally need to install the program. The application formats the voice so that it is in the same style as the minus, sounds more organic and fits correctly on the audio track.
Additional equipment . First of all, it will be required for owners of old TVs. For Smart TV can be used as desired. This includes a DVD player, vocal system, TV box, mixing console, etc. You already need to look at the situation and requests.
Important! Some TVs do not have a microphone jack. This means that only a USB microphone can be connected to such a device. If you have a regular 3.5 mm model, then you can try using a USB adapter.
How to connect karaoke to TV?
The connection method depends on what equipment you have at your disposal. We will look at a few basic cases and give our recommendations for setting up karaoke.
To Smart TV
Most Smart TVs have the required 3.5mm microphone jack. This includes most models of TVs Samsung, Sony, Philips, Panasonic, BBK, DEXP, etc. At the same time, a significant part of the model range, quite often found in LG, does not have a 3.5 mm microphone input. To create a working karaoke system, you will need either a microphone with a USB connection or a miniJack to USB adapter.
Instructions for connecting wired karaoke to Smart TV:
We find the microphone jack on the side of the TV or on the back. If there are several of them, you need to look at the colors of the ports. The microphone is usually indicated in pink.
We connect the device to the TV. If you have a karaoke center with a speaker, don't forget to also connect the second 3.5mm plug to the jack (usually green, but may not be marked).
Install the application for singing. You can install some application from the Play Market or an apk file (on Android and Android TV). Many people use Karaoke Yokee, Smule, KaraFun.
Setting up the microphone. Often you need to select "Microphone" in the settings in the "Sound" section. However, there may or may not be such an option.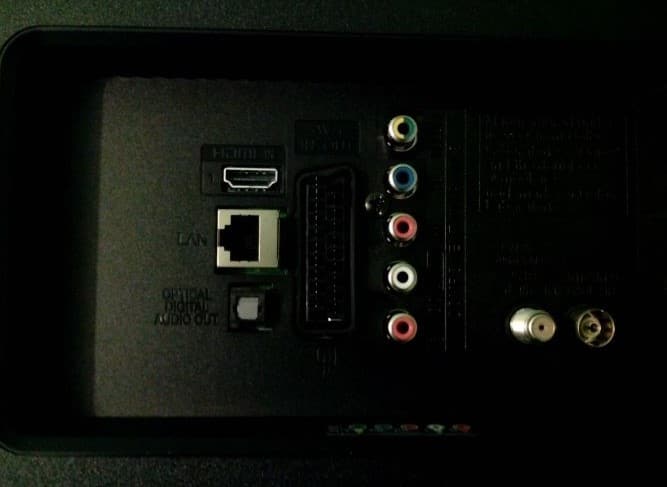 See also: How to connect a microphone to Smart TV?
Unfortunately, not all Smart TVs can use the microphone and recognize it correctly. This is usually due to the lack of a suitable port type. USB microphones also often fail to synchronize due to the fact that there are no correct parameters in the settings. If for some reason it was not possible to connect the karaoke microphone to the TV, most likely you will have to use a DVD karaoke, TV box or computer.
Bluetooth microphones work much better with Smart TV. Usually their setup does not take much time, and the setup procedure is simple.
How to connect a Bluetooth microphone to Smart TV:
Turn on the sync mode on the microphone. To do this, a special button can be used or you need to hold down the power key for a certain time. It all depends on the model. The necessary instructions are easy to find in the paper or online manual for the device.
Go to "Settings" on the "Bluetooth" tab and turn on the search for devices.
When the microphone is found, click on it to synchronize the devices.
We try to launch a voice search and say something. If there is no sound, go to "Settings" and turn on the microphone.
Via DVD
In terms of ease of implementation, this is the easiest way. It works almost always, unlike Smart TV, as there are connection problems on many platforms.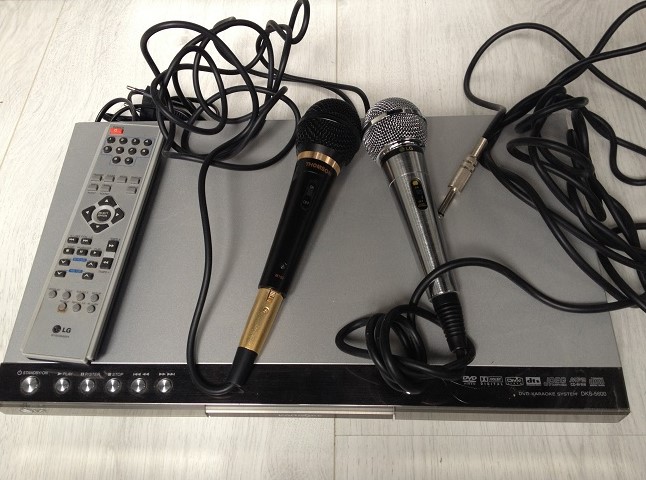 How to connect karaoke via DVD to TV:
We select a cable that will allow you to connect the set-top box to the TV. On very old models, this is RCA. On fresher devices – SCART, and on modern players – HDMI. There may be problems when connecting an old receiver to a new TV or vice versa. The lack of suitable connectors is solved by adapters.
We connect the DVD player to the TV, and to it – a microphone.
Select the source using the TV remote control . This is usually done either on the main screen of the TV, or with a button on the remote called Source, Input. The input to which the player is connected must be selected.
We launch the DVD player and insert the disc or flash drive from where the minuses will be played. Under them, you can already start singing. If desired, you can also connect a speaker to the player to improve the sound quality.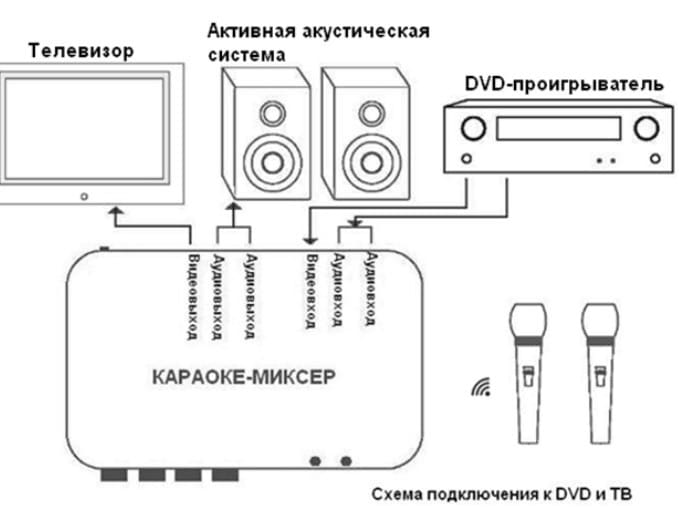 Via PC
The computer in this case will act as an intermediary. It receives the signal from the microphone and processes it. Then it will transmit the picture and sound (optional) to the TV.
How to connect karaoke to TV via computer:
Connect the microphone to the connector on the computer. It usually has a pink border.
Establish a connection to the TV. It's better to use HDMI, but there are other options. Here is an instruction on how to connect a computer to a Smart TV.
On the TV, select as the source the channel to which the computer is connected.
Installing karaoke software. There are a lot of them, but as an option: GoSing Karaoke, KaraFun.
Let's try to sing.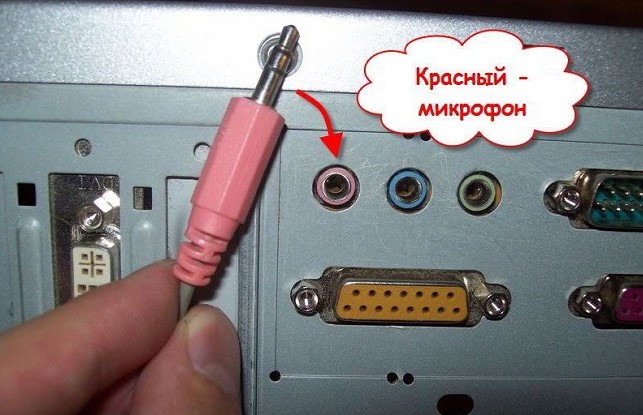 If the sound does not appear, click on the speaker icon in the lower right corner of the desktop (on a PC) and select "Recording devices". Select the active microphone from the list, right-click, and then – "Set as default".
See also: How to connect laptop to TV?
Using a smartphone
The principle is very similar to the previous method, only a smartphone will be used instead of a laptop. However, the mobile device connects to the TV in a slightly different way. We have previously described many ways to transfer images from phone to TV. A Bluetooth or HDMI option is better, so that sound is transmitted to the TV, and then played back there.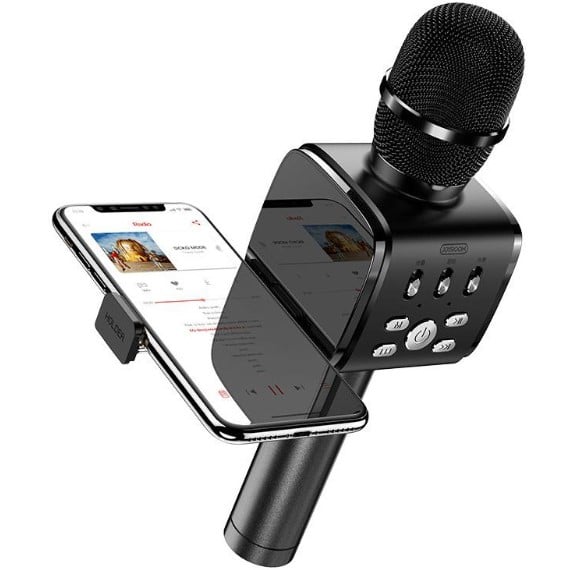 Another nuance is the presence of a connector on the phone. Otherwise, you will need an adapter to USB Type-C (or another, depending on which one is used). The alternative is a Bluetooth connection. Just keep in mind that connecting to both the TV and the microphone via Bluetooth will not work. One device needs to be synchronized using a cable, the other – wirelessly.
Additional Recommendations
Unfortunately, among the listed methods, there are very few unconditionally working on all devices. A DVD player is the safest option if it supports karaoke. In other cases, there are some nuances.
Frequently asked questions and answers to them:
USB microphone not working . It is worth trying to select it in the settings. If there is no such parameter, most likely it will not be possible to make it work. TVs have very limited options for using USB devices.
No sound on TV from microphone . If there are no suitable settings and the device is connected correctly, there is nothing left but to change the communication method. You can switch from a wired connection to Bluetooth and vice versa. Most likely you will need a karaoke center or a DVD player.
Nothing works, there are no settings, but you don't want to buy a DVD player ? Use the PC connection method. It should give the expected result in almost all situations. It is even more convenient to manage karaoke (it is possible to adjust the sound settings) and more choice of applications.
Connecting a karaoke to a TV is not an easy task, as often the system does not work as expected at the very beginning. You will most likely have to experiment with sound input methods. If you manage to get the microphone to work properly on TV, then everything else will be just a matter of technology. If the voice from it is not processed by the TV, use additional devices for this purpose: DVD players, TV boxes, media centers, computers, smartphones or tablets.
You can ask questions in the comments, as well as express your thoughts.