The Zone application is undeservedly rarely mentioned on our website, but we decided to correct this oversight and explain in detail the advantages and disadvantages of the service, what it is, where to download it from and how to install it. This is a multi-platform application that is available on both TVs and computers and phones. Here's how to watch free TV, movies and series in the Zone.
Zona app description + download links
The Zone is a collection of the latest movies and series that you can watch online for free. The library has over 110,000 films and their list is constantly updated. With sufficient Internet speed, you can watch movies on your TV, on a Windows PC, on your smartphone. Most devices are ready to play a large number of videos, series, TV channels (more than 300). At the same time, the requirements for devices are minimal – Android 4.4 KitKat or fresh. Suitable for Android TV: voice control, remote control.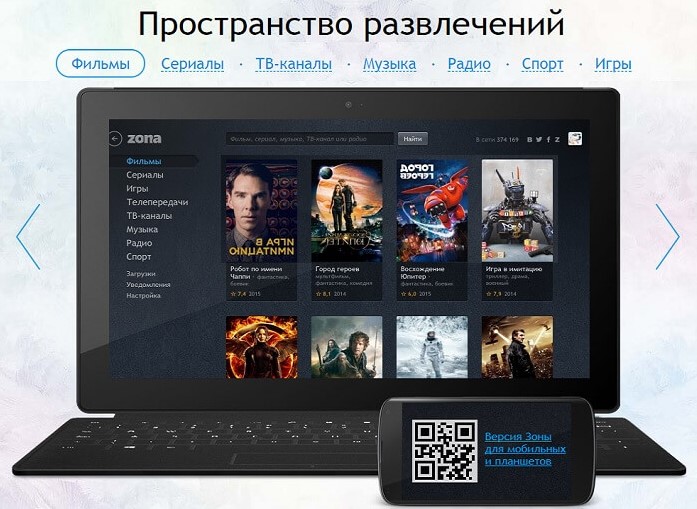 From here you can download the Zona application in Russian for Android and Android TV .
Link to download Zona for iPhone . An important nuance – for the iPhone, the application has a truncated functionality, it displays only official trailers.
You can download the Zone for free on Windows here .
Read also: Lampa app review for Smart TV
Features of the Zone app
Zone is a torrent application for watching movies, that is, a technology for transferring data between users works. The more users the service has, the faster it works in the long run, since you do not have to pull all the data from your own servers. Naturally, all this has a limit and there may be a situation where less popular films are loaded slowly. At the same time, torrent technology does not require a full download of movies to start watching.
Pros of the Zone
Benefits of the Zona app:
high speed of downloading movies and other media content;
works absolutely free;
huge library: 110,000 films, 14,000 series, 300 TV channels, 600 radio stations, 1 million hours of music;
there are several themes to choose from;
multi-platform, full support for Smart TV, you can continue watching on other devices;
no spam and generally a moderate amount of advertising;
you can choose the quality and voice acting, and there are many options to choose from;
there are necessary functions for compiling your list of watched, favorite films, including notifications about the release of series;
You can continue watching from where you left off.
Cons
Among the shortcomings can be answered:
some content may be blocked in a certain region, you need to install a VPN;
may freeze, especially on TVs with low-performance hardware;
There are few advertisements, but they are there.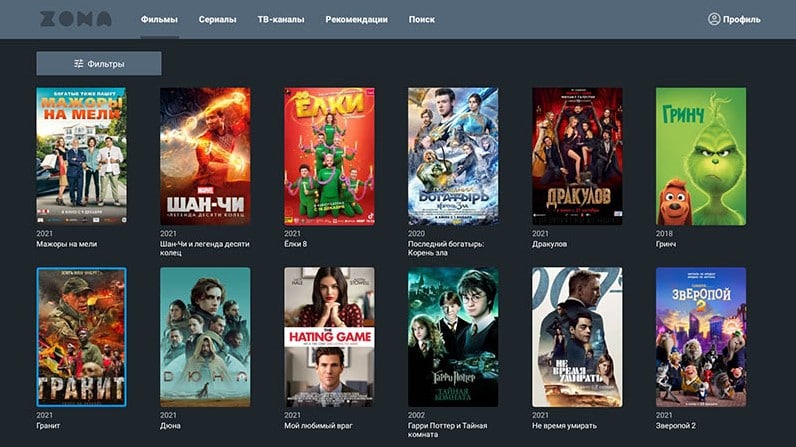 How to install the Zone app?
The installation instructions for an Android device and for a Windows PC will be different, so we will consider all the options separately, but briefly.
How to install the Zone application on a TV, PC, smartphone:
Android smartphone. Just download the latest version of the torrent client file ( link ) and run its installation. The file size itself for downloading is small, up to 10 MB, so even mobile Internet can be used. Your phone may first ask you to enable "Install from unknown sources". There will be a link to go to the desired menu and there you should switch the toggle switch to the active position.
iPhone . The only installation option is from the official App Store and only a stripped-down version.
TVs on Android TV . Installation is no different from an Android smartphone: download, allow installation, including from unknown sources, and run after installation. On any Android TV this applies: Haier, Philips, Kivi, Xiaomi, etc.
windows . Installation is simple, like any program on a PC. From here you can get the file.
On Samsung, LG TV . Only the connection option works as a DLNA server. In the settings you need to activate the option "Show downloaded movies on devices with DLNA". Additionally, you need to deploy a DLNA network, which we discussed in detail in this article.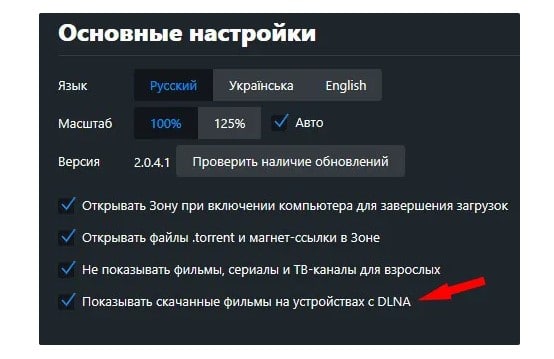 macOS . There is no installation option.
Read also: Review of HDRezka app for Smart TV
How to update the application?
The app itself may have a "Check for Updates" button. If you need to update the Zone application on your TV and there is no necessary option in the settings, all that remains is to download a newer file and install it over the current application. A newer version should be installed. If it does not automatically update, you must first uninstall and then install the application.
Why doesn't the Zone app work?
If the Zona application stops working and viewing is not available, you should do the following:
Update app.
Install VPN. In some regions, the Zone application does not work on the TV. It is better to set up a VPN on the router.
Check internet speed. The network must be fast and stable.
Read also: Review of the Wink app for Smart TV
As a result, we get that the user can watch movies in Russian, and for free, on any device. Here it is convenient to choose the viewing quality, a large list of new movies and many other advantages that make the Zone an extremely useful application. Our verdict – we recommend to install.